Business
Entertainment
What to Explore In Golden Triangle India Tour Packages?
Golden Triangle India Tour Packages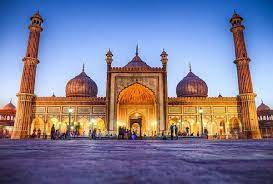 Golden Triangle India Tour Packages
India's Golden Triangle is made up of its three most important cities: Delhi, Agra, and Jaipur. These cities are situated in a triangular circuit, which is why they are together known as India's most amazing golden triangle. These three cities are renowned for their long histories and important ancient heritage. The majestic landmarks of these ancient Indian royal capitals are yours to visit on the Golden Triangle tour.
What Golden Triangle India Tour Packages Offers You?
Do you have plans to visit India? Is this your first time in this beautiful country? If so, before starting your trip to India, you should study up on these golden triangle India tour packages. India's astounding size and width make it impossible for anyone to visit all of its top tourist destinations at once. India is home to innumerable wonders that will provide you with some genuinely unforgettable memories that you will cherish for the rest of your life in every state, city, district, and hamlet.
Attractions of Golden Triangle Tour
Delhi Sightseeing Tour Destinations
One of the most popular destinations in the India Golden Triangle is Delhi, the nation's capital. Following is a list of some of Delhi's top tourist attractions:
Red Fort:
Shah Jahan, a Mughal emperor, constructed the Red Fort, also known as Lal Qila, in the 17th century. This amazing fort complex is located in Old Delhi and was constructed of Red Sandstone. It was recognised by UNESCO as a World Heritage Site in 2007.
Qutub Minar:
With a height of 72.5 m, Qutub Minar is the tallest minaret in India. The Qutub Minar, which is surrounded by various old ruins and buildings, offers a glimpse of Indo-Islamic architecture.
Jama Masjid:
Shah Jahan, the Mughal ruler, built the Jama Masjid in 1658 AD, serving as something of a milestone for Delhi. It is located on Chawari Bazar Road, one of Old Delhi's main central streets.
India Gate:
India Gate, the most well-known national monument of India, is located in the centre of New Delhi.
Akshardham Temple:
The most exquisite temple in Delhi is Akshardham Temple, which finest exemplifies conventional Hindu and Indian architecture. The temple complex's main draws are a musical fountain show and an art exhibition.
Jaipur Sightseeing Tour Destinations
The capital of the vibrant Indian state is Jaipur. The most regal travel destination in India's Golden Triangle is Rajasthan. The following is a list of popular attractions in Jaipur:
Amber Fort:
Likewise called Amer fort The most popular destination in Jaipur is Amber Fort. The fort, which is perched on a tall hill, is renowned for its aesthetic design and elephant ride.
City Palace:
The complex of imperial buildings, courtyards, and verdant gardens known as City Palace. The palace is a stunning example of the intricate fusion of Indian Rajput, Mughal, and European architectural traditions.
Govind Dev Ji Temple:
One of Jaipur's well-known temples is the Govind Dev Ji Temple, which honours the Hindu deity Krishna. The city palace complex contains it.
Hawa Mahal:
One of Jaipur's distinctive five-story buildings is the Hawa Mahal, or Palace of Winds. It resembles a beehive and features 953 tiny windows, often referred to as Jharokhas, all of which are embellished with exquisite latticework. By choosing a Jaipur sightseeing tour package, you can visit all of these locations in a single day.
Agra Sightseeing Tour Destinations
India's Uttar Pradesh state includes the historical tourist destination of Agra. In Agra, some of the must-see sights include:
Taj Mahal:
The main reason for travelling is to see the Taj Mahal, sometimes referred to as the "symbol of love." This building made of white marble draws visitors from all over the world. It is one of the Seven Wonders of the World, as well.
Agra Fort:
The most well-known structure in the city is Agra Fort, which is roughly 2.5 kilometres from Taj Mahal. It is now recognised as a UNESCO World Heritage Site.
Fatehpur Sikri:
The Mughal Emperor Akbar's city of Agra is located 32 miles away from Fatehpur Sikri. The most notable landmarks in Fatehpur Sikri are the Buland Darwaza, Panch Mahal, Jama Masjid, etc.
Also read: Eligibility for Getting Enrolled In an MBA in UK Program